◆Sunday is Tuna Day Schedule (9 days total)
【Time and Date】
September /? 1 , 8 , 15 , 22 , 29
October /? 6 , 13 , 20 , 27
Morning Show/ 9:30
Afternoon Show / 12:15
【Place】Oma Port Special Event Space Kyurei
【Event Summary】Live tuna disassembly show and display and tuna sale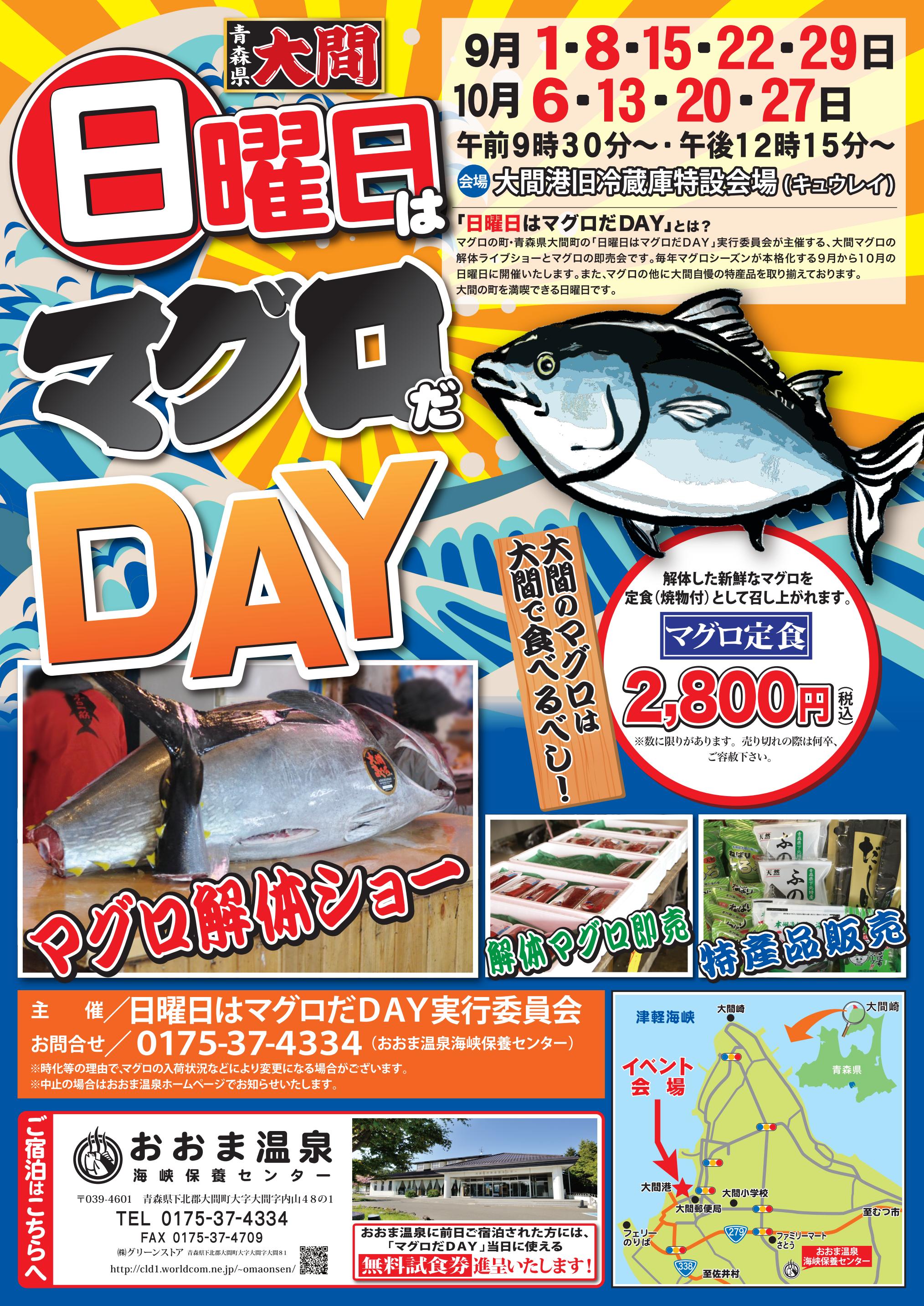 Oma Tuna season is coming again this year!
Come enjoy Oma's fall event, Sunday is Tuna Day!
We hold the event regularly on Sundays during September and October every year. The event happens once in the mornings and once more in the afternoons.
◆At the Sunday is Tuna Day disassembly show, you can enjoy the interesting banter of our master of ceremonies, as well as the splendid expertise of our butchers!
While enjoying the festivities, you can watch as tuna is cut into blocks and is displayed for sale immediately. It sells so fast that it almost flies off of the shelves! Of course, you can have your goods shipped domestic from the venue with refrigerated shipping. Our tuna makes a great souvenir…but we'd also love for you to have some fresh tuna while you're in Oma, of course!
◆Tuna lunch sets are 2800 yen (tax included)!
At Sunday is Tuna Day, you can also enjoy a meal at the venue! Our tuna lunch sets include sashimi and grilled food. You might be able to taste some parts of the tuna that you can only order in Oma, too! (The grilled parts will differ depending on the day.) Enjoy some freshly carved tuna from the disassembly show. Supplies are limited so please forgive us if we sell out quickly!In addition, we also have many local goods we pride ourselves on other than tuna that will be available.
◆If you spend the night before the event at the Oma Onsen Strait Recreation Center, you can also receive a ticket to try Oma Tuna for free!
There's good news for everyone coming from afar! Oma Onsen is a great place to spend the night, and it also offers Oma Beef, which is so good that we call it "Land Tuna."
Sundays in September and October are a special time where you can have your fill of everything Oma has to offer. We hope to see you at the event!
*The event space is roofed, but is not an indoor space. The event is next to the sea, so it would be a good idea to bring a jacket.
*The events are subject to change due to insufficient catch, inclement weather etc. For details about schedule changes and cancellations, please check this homepage or the Sunday is Tuna Day Executive Committee homepage on the Oma Onsen website.
Inquiries: Sunday is Tuna Day Executive Committee (Oma Onsen)